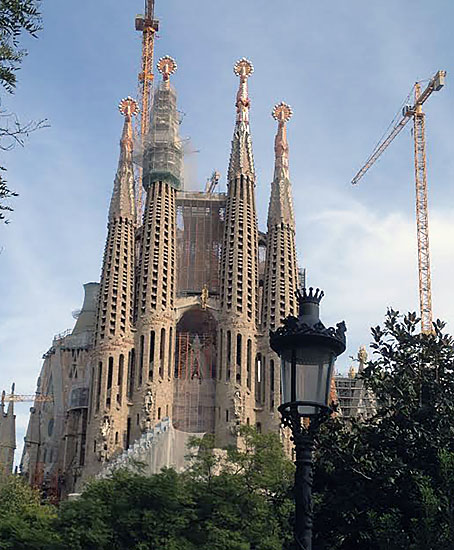 The Basilica i Temple Expiatori de la Sagrada Familia, Barcelona, Spain
built 1882-ongoing; photo Maurice Courtois
Pinterest Board Assignment
I am always searching for new online, digital tools for the course. For a while I have known that Pinterest exists, but (a) I had not been able to figure out how to use it and (b) i had not really been able to figure out how to use it in one of my courses (mainly because of point a. It took some experimenting, but I decided that the app can be useful to create a historically-focused project. Here is an example that I was able to create based on the schools in my home town in Pennsylvania. I found that creating a Pinterest board is a pretty straight-forward process, and it is a project that can be a lot of fun to work on.
So, give it a try and create a Pinterest board. Here are the requirements for your board:
It should be devoted to some appropriate historical subject that fits your course content and time span. (That is a pretty broad definition. You should discuss ideas with your instructor.)
Sign up for a free Pinterest account.
You will need to use at least ten data points (photographs/images) that are called pins for your project, and you can include more. In Pinterest, you "pin" items to your board. The first place that you should look for images is the Creative Commons Search Engine. At least two of your "pins" should be found here, or somewhere else as long as they have a creative commons use license. All images that you use should have specific URL citation link for the exact location of the image. That URL is usually saved when you pin the image to your board.
Each pin on your board should have a detailed description, identifying the item and explaining its importance and relevance to your overall topic. This should be your description, not the words that come with the pin.
Your Pinterest board should have a clear descriptive summary of the project.
Once you have finished your board, you will publish your project on the web. You can keep your board "secret" while you are working on it. When you are finished, you will make it public.
Please submit an early draft of your work to your instructor for feedback; just email the URL to your professor.
When you are done, submit the URL of your Pinterest board on Canvas with a short explanation of your work on the project. Your instructor will provide feedback so that you can improve your project for the highest possible point value.
Some examples: