Alexander Pushkin is often called Russia's Shakespeare, but it would be just as accurate to call Shakespeare England's Pushkin. Each writer similarly towers over and virtually created his nation's language and literature. What makes Pushkin an even greater figure in his native Russian than Shakespeare in English is the much greater breadth of forms in which he wrote, including short verse, plays, short stories, novellas, a novel in verse, and a history of the Pugachev rebellion. And while Shakespeare was patronized and praised by his monarch (Elizabeth I), Pushkin was patronizingly censored by Nicholas I and had to write in a suffocating rather than a sustaining atmosphere.
Less well-known outside Russia than Dostoevskii, Turgenev, Tolstoi, Gogol, and Chekhov, Pushkin inspired all of these later nineteenth-century writers, who drew many of their themes from him. He also inspired numerous painters and composers who either portrayed him heroically or translated his works into some of the world's greatest music (think of Mussorgskii's Boris Godunov and Tchaikovsky's Eugene Onegin, for instance).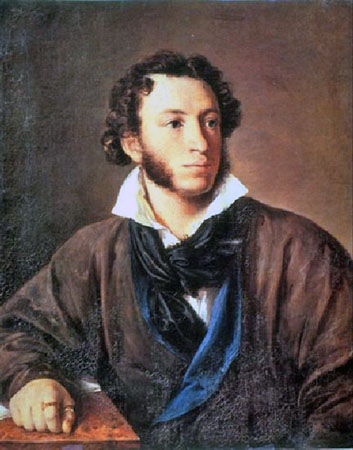 Portrait of Aleksandr Pushkin (1827, Oil on canvas, The Pushkin Museum, Moscow) by Vasilii Tropinin (1776-1857)
Personally, I feel three very strong links to Pushkin. In April 2002, I was privileged to meet the great Russian poet Yevgeny Yevtushenko, for whom I had arranged a reading at NVCC. Yevtushenko virtually exudes and embodies all things Russian as far as I am concerned, and he has described himself as Pushkin's "spiritual grandchild." He also owns one of the few extant plaster Pushkin death masks. One of the poems he read invoked both the African-American singer/actor Paul Robeson and Pushkin, artists that faced extreme censorship during their respective careers. In hearing one great poet intone the name of another, I felt very, very close to both. And when Yevtushenko, speaking as Robeson, said "I have a Russian relative, you see. Pushkin is his name," it was clear he was also speaking of himself.
An earlier and even more indelible encounter with Pushkin came in a lecture hall at the University of North Carolina in 1970. It has been my good fortune to study Russian history with several great scholars and teachers. One of the finest was Dr. E. Willis Brooks of the University of North Carolina. His lectures were wonderfully crafted and always were presented with an unmistakably clear love for nineteenth-century Russia and an equally apparent and authentic respect for his students. I still have the notes for his lecture on Pushkin, dated 12 June 1970 and written on yellow legal pad pages. It stands out in my memory more than probably any single lecture on Russian history and culture that I have ever experienced, and made me promise myself--once I became a professor someplace--to research and write my own lecture on Pushkin. I did so later in the 1970s, and always delivered it with what I hope were similar emotions and respect, even if my own talents as both a scholar and a lecturer were much inferior.
Dr. Brooks stated that Pushkin had quite literally "built" the Russian language, before passing it forward to Lermontov, Gogol, and others. He also described Pushkin's role in fostering Russian nationalism, and called him "a patriot in the best sense" and a hero in subsequent times "to all ideological variations" in Russia and the Soviet Union. Like many artists, there is little to admire about Pushkin other than his artistic output. "His genius," in Dr. Brooks' words, "towered over everything that was small in him." He also described Pushkin's constant 'duels' with Russian censorship, and drew parallels between Pushkin and Boris Pasternak, who suffered under "similar autocracies." He concluded, of course, with a moving description of the actual duel in which Pushkin was mortally wounded, on 27 January 1837. He died two days later; Pushkin was only 37. He was killed by his brother-in-law, a world-class "slacker" named Georges d'Anthes whom Pushkin was convinced was romantically involved with both Goncharova sisters--i.e., with both Mrs. D'Anthes and Mrs. Pushkin, and it is assumed by most who have looked closely that he was correct. The superfluous life of d'Anthes would last until 1895.
The death at an early age of Aleksandr Pushkin remains a lamentable circumstance to all familiar with his life and work. Lermontov (see our notes on Lermontov) immediately afterwards composed a poem entitled "Death of a Poet," critical of those who had wronged and slandered Pushkin. Clearly, he included the tsar Nicholas I in this group, and was thus exiled. Pushkin "died in the full bloom of his creative power, and no doubt carried into his grave some great secret," Dostoevskii sadly stated when dedicating a monument to the poet in 1880.
In a passion play that takes place dozens of times annually at Moscow's Bolshoi Theater and elsewhere around the operatic world, Pushkin's death in a duel is acted out on stage in act two of Tchaikovsky's Eugene Onegin. Ironically, Pushkin, in describing the death of the poet Lensky at the hand of the "superfluous man" Onegin, had foretold his own death in a duel with d'Anthes. In September 1977, I sat in the Bolshoi Theater for a performance of "Onegin", with the part of Lensky sung by the great Russian tenor Vladimir Atlantov. It was an unforgettable and unbearably poignant moment when Atlantov/Lensky/Pushkin was shot and let his pistol fall, and I can tell you there were few dry eyes as the audience filed into the theater's lobbies for the entr'acte. This was my third and most moving close encounter with Pushkin.
If you would like to pursue Pushkin, a good start is by going to oldpoetry.com, where you can find acceptable translations of "Arion" (Pushkin's tribute and also farewell to the Decembrists), "I loved you once", and other short poems. You can find online full text versions of works such as Boris Godunov, Eugene Onegin, The Bronze Horseman, and The Negro of Peter the Great (Pushkin's tribute to his great-grandfather, the Ethiopian Ibrahim Hannibal, who served at the court of Peter the Great) by googling these titles. Pushkin was portrayed, from life and after his death, by almost all great Russian painters. My favorite is Ilya Repin's "Alexander Pushkin on the Lyceum Speech Day 1815," in which the young Pushkin for the first time publicly reads his own work. Leaning forward and cupping his ear to listen, smiling, is the aged Russian poet Gavrila Derzhavin. Pushkin stands, feet apart and right arm raised. Above his head, like a halo, is a gilded low-relief laurel wreath on the wall of the palace lyceum hall; one great artist paying tribute to another (you can find the painting by googling "Repin Pushkin"). And if you would like to really commune with Pushkin, take a copy of his poems or short stories, or perhaps a copy of "Onegin" and ride the Orange Line Metro to Foggy Bottom. From there, walk a few blocks to the intersection of 22nd and H Streets, Northwest. Here you will find a larger than life-size statue of Pushkin in the middle of the George Washington University campus, erected in 1999 by the American-Russian Cultural Cooperation Foundation to commemorate the 200th anniversary of the poet's birth. There are nearby benches where you can sit, read, and think.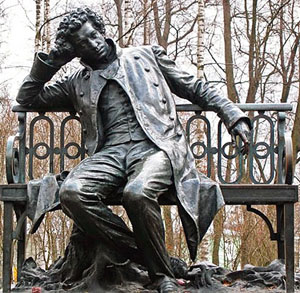 Pushkin at Tsarkoe Selo (Pushkino), Russia; photo courtesy Professor Blois.

Some recommended books
Martin Malia, Alexander Herzen and the Birth of Russian Socialism (1965)
Aleksandr Herzen, From the Other Shore (1847-48)
Isaiah Berlin, Russian Thinkers (1977)
Andrei Walicki, The Slavophile Controversy: History of a Conservative Utopia in Nineteenth-Century Russian Thought (1975)
Priscilla Roosevelt, Apostle of Russian Liberalism: Timofei Granovsky (1986)
James Edie, et al, Russian Philosophy, volume 1 (1965)
Nicholas Riasanovsky, Russia and the West in the Teaching of the Slavophiles: A Study of Romantic Ideology (1952)
Herbert Bowman, Vissarion Belinskii: A Study in the Origins of Social Criticism in Russia (1969)
Taras Shevchenko, Poetical Works translated by C. Andrusyshen and Watson Kirkconnell (1964)
Edward Chmielewski, Tribune of the Slavophiles: Konstantin Aksakov (1962)
Some recommended websites