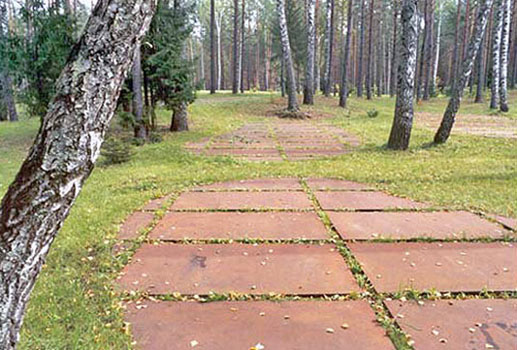 Looks like an innocent forest scene, maybe with some nice paved, picnic places, but this place is actually true testament to the absolute brutality of the Stalinist regime

On 28 September 1941, when Polish resistance to the German attack had all but ended, the Soviet Union occupied the eastern half of Poland per the secret provisions of the Molotov-Ribbentrop pact; Poland as a country ceased to exist. Both sides (Germany and Russia) in their respective zones began to suppress resistance and destroy the Polish intelligentsia. In fact, the NKVD (Soviet secret police) and the Gestapo (German secret police) coordinated their actions and even exchanged prisoners. "At Brest Litovsk, Soviet and German commanders held a joint victory parade before German forces withdrew westward behind a new demarcation line." (source) Somewhere amid all the confusion, some 20,000 Polish officers POWs seem to have disappeared and could not be accounted for.
In 1943 the Nazis found the graves of the missing Polish officers in the Katyn Forest near Smolensk and exhumed the Polish dead. In the hope of dividing the allied alliance, the Nazis asked the International Red Cross to investigate, as did the Polish government-in-exile, to see if the Soviets were responsible. The Russians denied the German allegation, the US and British dropped the matter, and the Polish government was told to shut up. When the Soviet army recaptured the Katyn area from the Germans, the Soviets exhumed the Polish dead again, blamed the Nazis and disposed of the bodies.
In 1989, with the collapse of the Soviet Union, Mikhail Gorbachev confirmed what had been long suspected; that it was the Soviet secret police that had executed the Poles on the direct orders of Stalin and that there had been other burial sites similar to the one at Katyn.
There are now some very good sites dealing with Katyn on the web.