HIS 111, 112, 135 and 218
Website Creation Assignment
The Friendship Arch in Kiev, Ukraine has a rather impressive, formal name: Friendship of Nations Arch (Арка Дружби Народів) aka the People's Friendship Arch. Created by Skoblikov and Ivanov and opened on 7 November 1982, this 50m high titanium arch had all kinds of significance when it opened: 7 November is the anniversary of he Russian Revolution; 1982 was sixty years of the Soviet Union,of which Ukraine was a part; 1982 was perhaps 1500 years since the traditional date of the founding of Kiev. The arch was meant to to commemorate the "strong" bonds that existed between Ukraine and Russia, dating back to the 1654 treaty of Periaslav. Although the exact, formal terms of the treaty have been lost to history, they key provision seems to have been the Cossacks of Ukraine agreeing to Russian suzerainty. While the treaty was initially intended to signify the break with Poland, what it instead brought for Ukraine was Russian domination over time.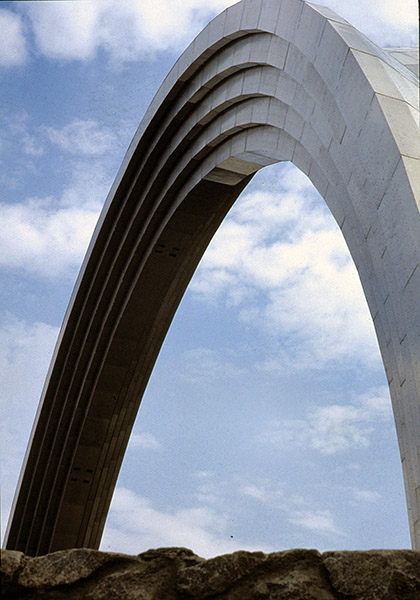 Before creating a website, you must obtain your instructor's permission. Send an email explaining your proposed topic. You should also indicate any prior experience with creating web materials. Your instructor can supply you with a list of possible topics depending on your interests. 
There are many different tools that you might use to create a website.
Specifically, with respect to putting material on the web, there are now many options for building a website:
Google sites
Google Docs
Composer (part of the Seamonkey project)
Weebly (Make sure that you use the free version of weebly and that you choose to use a weebly "sub-domain." That means that your URL will include "weebly," for example http://chinaopiumwars.weebly.com/. If you try to use a unique domain name, like chinaopiumwars.com, then you will be charged.)
Spruz (not really a website creator)
Adobe's Dreamweaver
Avocode (actually an app builder)
If you want to try and build your own website using your own coding, you can use GitHub for free to host your code. Check out these directions for using GitHub.
others?
Many of these are pretty easy to use. Depending on your personal style and preferences, you will find one more to your liking.
Each website must include:
An introduction to the topic
A substantial background text, written by the student, of a couple thousand words; this should be broken into relevant sub-sections
A detailed timeline/chronology
Graphics, images or other media resources (each image needs a url citation)
Four to five recommended books (with annotation of why each book is important)
Annotated list of web resources (a minimum of 10 to 15 sources needed)
an "about the author" page
Some other considerations:
You need to properly credit the source of each photo that you use, including a URL if relevant.
Any links that you list in your web resources must include a short annotation.
You can use the resources on the NVCC Library page to help you with finding recommended books and websites and other sources for use on your web page.
Please make sure that I see a draft of your work before final submission.
Final point value is determined by the quality and quantity of your work. (As much as 200 points might be possible depending on which course you are in, but very few websites come close to that point value because of a lack of content.)
Whenever you publish something on the web, it must look good. Here are some quick web style considerations:
KISS (keep it simple stupid). There is no single, better piece of advice for almost any kind of online project. You might argue that a better acronym is KISP (keep it as simple as possible), but that is harder to remember. Don't make it overly complicated.
When it come to the appearance of material on the web, space is better than cramped clutter. The Google search page is a good example of "space." Almost every home page on the web, Yahoo, USA Today, AOL, ESPN, is a good example of the problems that you get when you try to cram too much information and advertising onto a single page.
Color and color contrasts are important on web pages.

Proper citation!
Here are some examples of websites created by students. Only the first three reach the 200-point level: