4 July 1921 (Monday)
After almost two years of work, "Victory Park," a memorial for those who served in the Great War, was dedicated. At the top of the hill at the southern borough limit, the park was previously known as "Kern's Grove." In 1931 the high school began to use the park's fields for sporting events.
Source: Pictorial Souvenir Scenes of Slatington and Vicinity
12 December 1921 (Monday)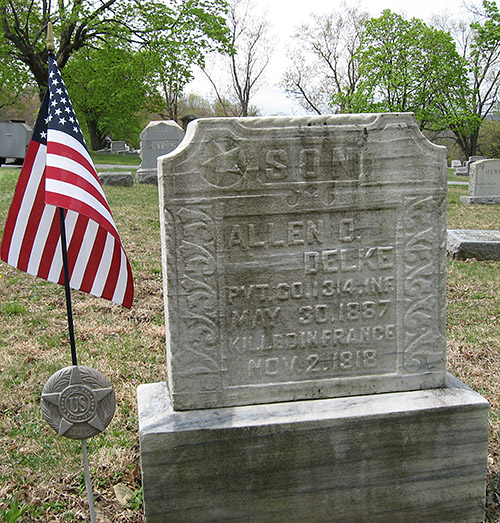 Allen O. Delke grave, Union cemetery, Slatington in 2014; photo credit Richard Musselman
Internment of the remains of private Allen O. Delke in Union Cemetery. Private Delke was killed in action on 2 November 1918 as part of the Meuse-Argonne offensive, nine days before the armistice ending the war. Inducted into the army on 20 May 1918, he was a private in company I, 314th infantry regiment, 79th US infantry division.
Source: William Leickel, Slatington, Walnutport and Washington Township: A Military History (1991)